The Conference
The Conference is ENCORE's driving force and is intended to be a high political level summit, taking place every two years. The Conference shapes and guides the work of the network. It takes stock of the progress made between Conferences and approves the political strategy of ENCORE. Each Conference has one or more specific themes.
ENCORE 2021
The three main topics discussed at the last Conference in Tullamore in 2021 were:
Maintaining and enhancing Ecosystem Services
Transitioning to a Circular Society
Achieving Zero Emissions through Climate Action
The Just Transition concept was central to the 2021 Conference, and framed the discussions on three specific themes. Indeed, achieving a Just Transition will require action on all of these fronts, and more. The three themes also represent a continuation of the ENCORE network's efforts in these areas, following on from the work of the ENCORE 2018 Conference in Herning, Denmark.
For more information please visit the conference homepage ENCORE 2021.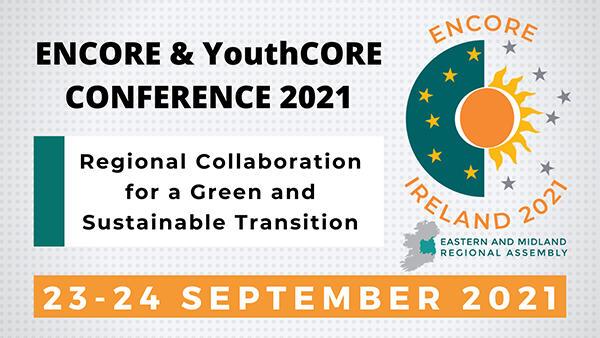 The next Conference ENCORE 2023 will take place will take place in Gelderland, Netherlands.
Declarations
During each Conference, a progress Report is presented on the activities carried out since the last Conference. Since 2014, a youth Conference takes place in the run up to the Ministers' Conference. The conference arrangements and other activities are handled by the regions in close cooperation with the ENCORE Steering Group.
Tullamore Declaration 2021 (PDF)
Herning Declaration 2018 (PDF)
Declarations and results of past ENCORE Conferences are provided by the ENCORE Secretariat. Please do not hesitate to contact us for the list of the Declarations.